We believe that an emphasis on soil health as well as 
freshness
 makes a real difference in the flavor, nutrition, shine, and storage quality of our produce. We collaborate with some of the region's top chefs to develop our crop varietal selections and harvest techniques. Our goals are to grow some of the nicest produce that you've ever seen or tasted; to be active participants in a vibrant local food economy; and to take care of our farmland, staff, and customers to the best of our ability.
We're a family farm, in our 18th year of operation, cultivating 75 acres of protected farmland in Sudbury and Sterling, MA. We grow over 100 varieties of vegetables for our year-round CSA, our farmstores in the
Boston Public Market
and Boston's South End, and for select restaurants and chefs.
We grow our produce using regenerative agricultural practices; free of chemical herbicides, pesticides, and synthetic fertilizers. We work to build our fields' soil fertility and beneficial microbial activity by using natural composts, certified organic fertilizers, cover crops, and mineral amendments. We have chosen to forgo the USDA's organic certification process, but invite you to trust us that we grow our produce using ecologically and socially responsible methods, on par with current organic standards.
Our Story
Germination: In 1975, when farm owner Chris Kurth was a mere babe, his family moved to a nineteenth-century Sudbury farmhouse and started settling in. Chris grew up helping tend gardens, fruit trees, and a collage of farm animals his family raised for home consumption. In 1998, after studying biology, philosophy, and environmental studies at Williams College, Farmer Chris started a five-acre CSA farm on his parents' fields and named it Meadow Brook Farm. After four years of developing Meadow Brook he accepted a farm instructor's position at The Farm School in Athol, MA, during which time he met and married his wife Ana Sortun, chef/owner of Oleana restaurant and Sofra Bakery in Cambridge, MA, and partner in Sarma in Somerville, MA . The birth of Ana's and Chris' daughter, named Siena, in 2005, spawned a new incarnation of the farm — Siena Farms.
Growth: Over the last seventeen years we've grown to our current scale of 75 acres of diversified produce, serving our CSA members, chefs, and retail customers, year-round in Boston's South End and at the Boston Public Market. In recent years, we launched our beloved Kids' Farm Share designed to get kids into the kitchen and connected to their food, plus our Community Sponsored Farm Shares and Employer Sponsored Farm Shares to expand access to our produce to households throughout Eastern Massachusetts and New York City.
Harvest: Of course, we couldn't have achieved any of this without our dedicated staff and wonderfully supportive customers, family, and friends — so, thank you, Cheers, and Happy Cooking!
Meet Our Team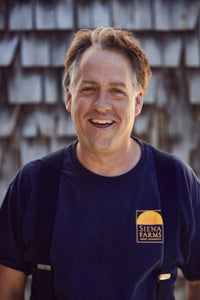 Chris Kurth
Owner/Farmer
Farmer Chris got hooked on farming in the mid-90's as a student of biology, philosophy and environmental studies at Williams College, and never turned back.  He loves growing food on the Massachusetts farmland he grew up on, and is so touched by all the support the farm has felt over the years from family, friends, and our amazing community of customers.  When not bouncing between staff meetings, office duties, and field tours, Farmer Chris loves to cultivate carrots for 8 hours straight; bring surprise veggies home for Chef Ana to cook with; watch their daughter Siena ride her horse Legacy around the farm; roughhouse with Legacy's best friend Aggie the Cow; and go on field romps with Farm Pup Rory!
PRODUCTION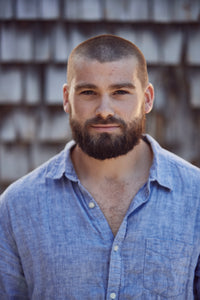 Mike Sushchyk
Farm Manager
Mike oversees all farm related activities and operations year-round, from farm infrastructure improvements to planning and executing the crop plan. Mike has over a decade of farming experience, five of those years spent right here at Siena Farms. Mike developed and honed his skills in western MA working on large scale organic farms while getting an education from the Stockbridge School of Agriculture at UMass Amherst, majoring in Sustainable Food & Farming. Mike's primary focus in agriculture is growing quality, nutritious food in a sustainable manner that is good for the earth, the environment, and the people who enjoy the food he grows. On any given day you can find Mike out on a tractor working the land, in his shop/office making repairs, or around the farm facility working on updates and improvements. 
Laura Sullivan
Production Manager
Before starting at Siena, Laura had been working on diversified vegetable and fruit farms throughout Massachusetts since she was in high school. She earned a B.S. in plant genetics and plant breeding from Cornell University, where she was a research assistant working with apple breeding and gained experience working in large scale agriculture. Her interests in farming are focused on reduced tillage systems and diversification of crops, specifically fruit crops.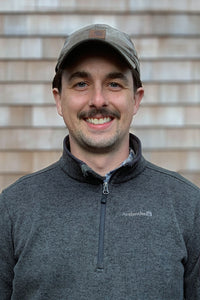 Evan Ferrarone
Production Manager
In 2018, Evan handed in a letter of resignation at his high stress construction management job. Ever since then he has worked on a variety of organic vegetable farms in the northeast. These have ranged from two person homesteads to 100 acre farms. He enjoys managing small groups and training new recruits to become comfortable driving tractors. Outside of farming Evan enjoys working on his truck, which is constantly broken, and trying to make cheese. 
Lyle James
Mushroom Production Manager
Lyle's interest in agriculture arose from his time learning about Biology and Environmental Studies at Brandeis University. After graduation, he decided to take a first-hand role in local food production in order to learn about farming from a farmer's perspective. Lyle loves working in the outdoors and supporting the farm's mushroom production, but he finds nothing more satisfying than supplying fresh food to his friends and loved ones.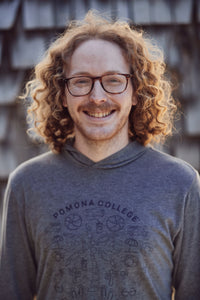 Peter Staub
Greenhouse Manager
A lifelong lover of food, Peter began gardening from a young age with his dad and started working on farms in high school and college. He loves the tangible rewards of working with dirt and veggies. When not at the farm you can find him walking around the city, doing crossword puzzles, or cooking too much food for one person. 
Isaac Hughes
Assistant Production Manager
Isaac Hughes has always had an interest in playing an active role in creating more localized and healthier food systems. As a student at Knox College, Isaac studied Environmental Studies and Philosophy, while also working at the Knox College Farm and as an assistant for the Urban Agriculture program. At Siena Farms, Isaac loves twining tomatoes (as long as the twine doesn't get tangled!), harvesting rows and rows of cabbage, and scheming what to cook with all the stunning produce he takes home every week. 
HARVEST
Kyra Sciaudone
Senior Harvest Manager
Kyra has a background in environmental science and sustainable agriculture. Her family has been part of a local CSA since she was young, which inspired her to work on a farm after grad school. Her favorite farm tasks include greenhouse seeding and harvesting kale. She draws inspiration from the seasonal produce to cook up delicious treats for her family and friends.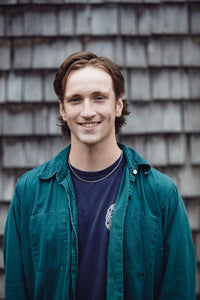 Ryan Burke
Harvest Manager
With a passion for food justice and community development, Ryan's role on the farm challenges him in all of his favorite ways. He loves learning from his amazing coworkers, forklifting, and anything related to garlic. Ryan is also an experienced bike mechanic and enjoys riding in his spare time!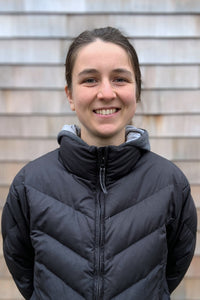 Aubrey Dority
Assistant Harvest Manager
Aubrey loves food, being outside, and learning about sustainable technology. Prior to farming, Aubrey's background was in mechanical engineering, and she deeply admires farmers' talent for inventing their own tools. She also admires vegetables for staying fresh over winter, fixing nitrogen in the soil, and using spiciness to deter mammals (among other remarkable abilities). At Siena Farms, she hopes to learn as much as she can from both the farmers and the plants around her.
DISTRIBUTION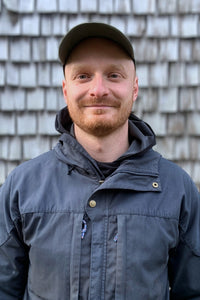 Turner Frankosky
Distribution Manager
Prior to joining Siena Farms, Turner cared for the layer hens at Codman Farm and honed his harvesting skills at Hutchins Farm. It brings him joy to know that responsible farming can strengthen communities and foster a more resilient planet. As a referee for US Soccer Federation, he officiates high school and semi-professional soccer.
RETAIL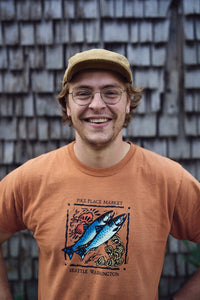 Seth Price
Retail Manager
Having grown up in and around agriculture, Seth considers farming to be a home and lifestyle more than an occupation. With a background in environmental science, Seth is particularly interested in understanding how small scale farms can improve food sovereignty and access. When not on the farm, you can find him biking around, reading, or learning about seeds. His favorite vegetable is onions.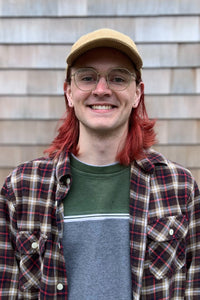 Jackson Hawk
Boston Public Market Store Manager
Jackson has been involved in small scale urban agriculture for a number of years and is excited for the opportunity and new challenges that come with working at a larger operation like Siena Farms. They are interested in sustainable agriculture, improving food security, and the role of food in building community. In their free time they enjoy reading, spending time outdoors, and hanging out with their cats!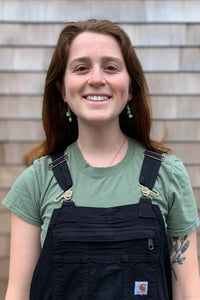 Kate Rogers
South End Store Manager
Kate found her passion for farming during a summer job on a small organic farm in her hometown after high school, and has been working on all sorts of farms since. Throughout college her interest in local agriculture as a piece to a more just world seeped into all aspects of her studies and being. Having her days full of food and people is a dream for Kate as her favorite pastimes are cooking and talking (about food, or anything really). Besides all things food; crosswords, bananagrams, and walks fill her with joy. 
OFFICE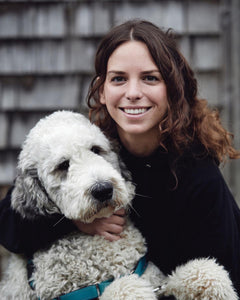 Anna Derian
Business Manager
Anna's appreciation for food and agriculture was influenced by both her childhood in rural North Carolina, and time spent working at an agricultural university in Yerevan, Armenia. She joined the Siena Farms team after her time in academia studying food policy and public health to further explore and understand local food systems. She has recently developed a deep interest in flower production, and you can often find her in our dahlia test patch with her dog, Hank.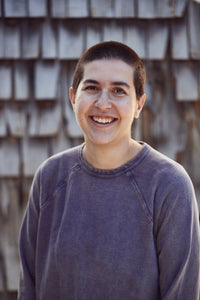 Ruby Kohn
Assistant Business Manager
Ruby is passionate about engaging with her community through food and local agriculture with the ultimate goal of alleviating food insecurity. She loves finding creative ways to use seasonal produce in the kitchen and believes there is no greater joy than sharing a home cooked meal with friends and family.